2022 Annual Convention and Trade Show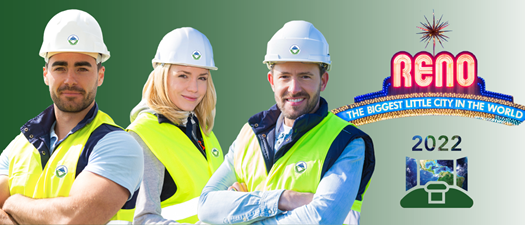 | | | |
| --- | --- | --- |
| Convention Program | Full Schedule | Trade Show |
| Hotel Info | Additional Event Information | Exhibitor Information |
| Face Mask Update | COVID-19 Duty of Care | Bus Schedule |
Register for the Convention
The PSAI's Annual Convention and Trade Show is back! We'll be in-person in Reno, Nevada, from February 1-4, 2022— and we will be the FIRST trade show of 2022 focusing on your portable sanitation needs. Join us at the Convention and plan for a fun education-related event exclusively for portable sanitation, and a chance to hear from your fellow operators about emerging best practices in the post-pandemic world!
This year's theme: "Reflecting on Yesterday, Planning for Tomorrow!"
The Annual Convention and Trade Show will take place at the Reno-Sparks Convention Center and our host hotel is the Peppermill Resort Spa Casino.
Reno-Sparks Convention Center
4590 South Virginia Street
Reno, NV 89502-6013
United States
Early Bird Deadline: Register before January 1, 2022
Face Masks Required
The City of Reno currently has a mask (face covering) mandate in place for all public indoor facilities.
In following these guidelines, the PSAI Convention & Trade Show will require all attendees and exhibitors to wear a face mask during the event at both the Peppermill Resort Spa Casino and the Reno-Sparks Convention Center.
---
Convention Program
The PSAI's Annual Convention and Trade Show is known for programming that is essential for professionals engaged in the portable sanitation profession. It is planned by a committee of practitioners based on feedback from operators throughout the industry. Attend the event and take part in these learning opportunities – you'll be able to apply what you learned as soon as you get home. From Industry Updates, Celebrating 50 Years, the Innovation Forum, HOLLway Sessions, Roundtables, and more, it's an event you won't want to miss!
Hands On Learning Labs – HOLLway Sessions 
HOLLway sessions are opportunities for you to learn by doing. Rather than a classroom, you'll join the instructors in a location where you can watch a demonstration and participate in the portable sanitation-specific activity at hand. There will be four 30-minute sessions with breaks to move between learning stations. The topics include:
Vacuum systems on a service truck
Winter servicing techniques
Servicing and maintaining restroom trailers including inspection
Understanding all aspects of deodorizers
Pre-trip and post-trip inspections on a service truck
In-cab and external camera footage and the role cameras have on your safety program
"How to Repairs" 
Roundtable Discussions
The PSAI's events are known for their open round table discussions. Facilitated by knowledgeable industry peers, these conversations cover a wide variety of topics that are relevant and timely to portable sanitation professionals. There will be two 45-minute sessions on both Thursday, February 3, and Friday, February 4 – choose the subjects that matter most to your business success. Additional details on the Roundtables can be found here.
---
Basic Service Technician Training and Certification Exam
The PSAI is the go-to resource for best practices. Our series of three basic training courses for service personnel will ensure your team leaders and staff know how to do things according to industry standards, giving you peace of mind and a foundation on which to build. The courses are offered both separately and as a series. When taken together and followed by successful completion of the certification exam, these three courses will satisfy the licensing requirements in the states of Illinois and Georgia. They are also accepted for continuing education credit in many other states.
Whether or not it is required in your area, having certified personnel can provide a competitive advantage for your company, help prevent avoidable mistakes and accidents, and save money. On Friday, February 4 the day's learning includes the following options:
Transportation and Logistics in Portable Sanitation. This 1.5-hour course is designed to address the major areas of competency required for portable sanitation professionals operating vehicles and setting up sites in the field. It covers preparing equipment for safe transport on public highways, the unique issues involved with transporting liquid waste, site selection and equipment placement, waste disposal, and vehicle maintenance protocols. (8:00 am-9:30 am)
Servicing and Maintaining Portable Sanitation Equipment. This 2-hour course is designed to teach learners about the proper use of pumping equipment, techniques for cleaning equipment in the field and on the yard, and best practices for field repair. It covers the safe and effective operation of pumping equipment, cleaning and servicing standards in the field and on the yard, adjusting for weather extremes, and field repairs. (9:45 am-11:45 am)
Health, Safety, and Professional Excellence in Portable Sanitation. This 2.5-hour course is designed to teach learners about the responsibilities of employers and workers for safety on the job, how to minimize the risk of illness or infection from job-related exposure, and how to approach the position of portable sanitation professional for maximum success. It covers personal protective equipment, materials handling, spill containment, accident/incident management, preventing infectious diseases, recordkeeping, and professional demeanor. (1:00 pm-3:30 pm)
Finish the day by sitting for the Portable Sanitation Professional Certification Exam. (3:45 pm-5:15 pm)
| | |
| --- | --- |
| | |
---
Trade Show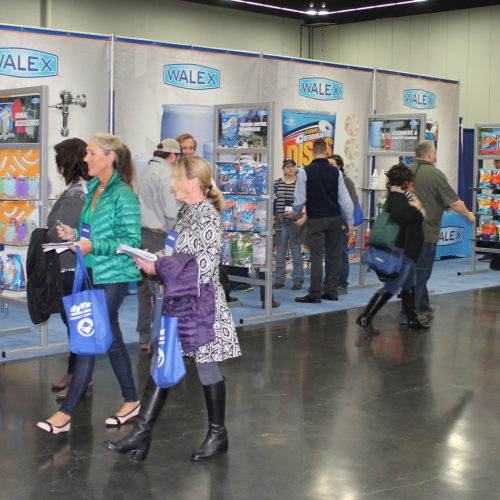 Join us for the largest trade show in the world dedicated solely to the portable sanitation industry!
Our exhibitors are focused on your company's success, and they look forward to doing business with you. Most will be offering show specials, and if you play your cards right you'll save enough money to justify your trip to the event! We have several registration options to meet your company's needs — plan your trip so you don't miss these exciting opportunities.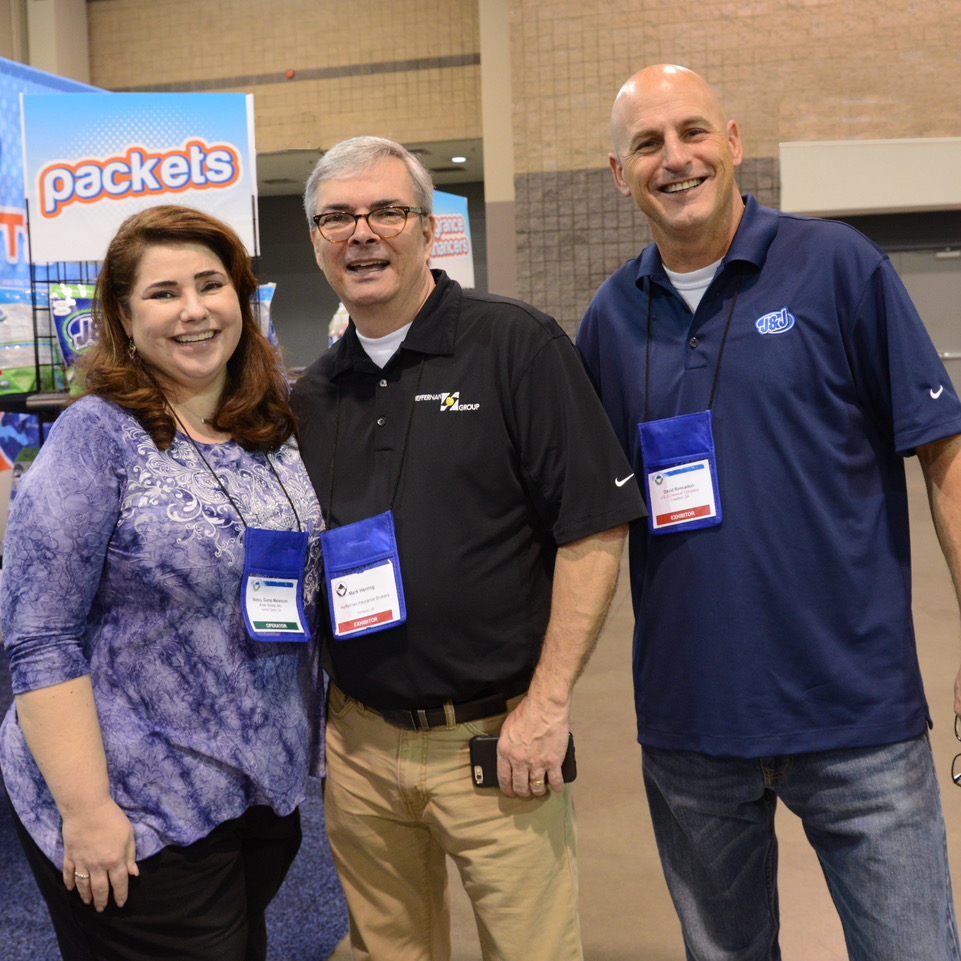 Your registration includes:
Access to the trade show floor Wednesday and Thursday.
A reception with the exhibitors Wednesday evening with food and a cash bar.
A silent auction that will offer you some great bargains on all kinds of useful and fun items.
A chance at prizes for successful completion of our Scavenger Hunt.
A closing party filled with games and prizes on Thursday afternoon.
* Children 12 and under may attend the trade show free with a paid adult. Any child not in a stroller or carrier must have a badge and be under parental control at all times. Youths 13-17 may attend the trade show at half price when accompanied by a paid adult. Youths who wish to attend educational sessions or the evening receptions must be registered using one of the ticketing options above.
---
Hotel Information
2707 S Virginia St. 
Reno, NV 89502 USA
Tel: +1-800-648-6992
Room Rate: $130/night plus taxes and fees
Room Block Deadline: Friday, January 14, 2022, or when the room block is exhausted, whichever comes first.
The PSAI has secured a special rate at the Peppermill Resort Spa Casino. The hotel offers a free shuttle to and from the Reno Tahoe International Airport. They will also provide complimentary transportation to and from the Convention Center on Wednesday and Thursday of the Trade Show.
When you stay at the Peppermill Resort, the PSAI can keep attendance costs low for everyone. But there's more! Attendees who stay at the Peppermill Resort will be eligible for additional prizes available only to registrants who stay at the conference hotel.
Use this link to get the PSAI's special rate!
All guests and employees are required to wear masks at all times while indoors, per guidance from the CDC, and consistent with the directives of the Nevada Governor. 
The Peppermill Resort is providing bus transportation for attendees between the Hotel and Convention Center.
Peppermill Resort pick-up & drop off point will be outside the bell desk in Valet to the LEFT.
Reno-Sparks Convention Center drop off & pick-up point will be outside the Ballroom / Rooms C. Follow signs to/from the PSAI registration desk.
* There will be a sandwich board outside the drop-off area at the Convention Center.
Additional Event Information
Board Happy Hour

If you're new to the PSAI – or aren't yet a member – we'd like to get to know you! Arrive Tuesday, February 1 in time to sit in on our open Board meeting at 3:00 pm. You'll learn a lot about the PSAI in that short hour. Afterward, we hope you will join the Board and many PSAI volunteers for happy hour. We'll be starting around 4:00 pm and look forward to finding out more about you, your company, and the ways we can learn from each other.
2022 Awards Luncheon

Gather with friends and colleagues as we seat the 2022-2023 PSAI Board of Directors and provide a report on our progress. We'll present our industry awards including the portable sanitation industry's highest honor, the Andy Gump Award. This luncheon is included in most registration packages, and a la carte tickets are also available. Join us as we honor outstanding contributions and reflect on a prosperous year.
The Innovation Forum

Trade show exhibitors will take turns at the podium, giving short presentations on the most innovative products that can be found at their booths. A cross between speed dating and the Home Shopping Network, this event will help attendees identify which exhibitors to seek out on the floor. Allow yourself to be blown away by the advancements being made in the portable sanitation industry. Each speaker's booth number will be on display during their presentation, so be sure to take note!
Silent Auction

Get great deals on a wide assortment of items our exhibitors will offer for the silent auction. Everything from portable sanitation equipment to electronics to gift cards will be available to the highest bidder. Winners walk away with items they need and the PSAI's programs benefit from the proceeds. Everyone wins!
Show Wrap Up Party: Portable Sanitation Activities, Trivia, and Prizes

Celebrate another great year with the PSAI and its wonderful trade show exhibitors. On Thursday, during the reception, the PSAI will sponsor games and contests. Music will be in the air and prizes will be yours to win. Grab a drink at the cash bar, take your chances at the games, dance a little if you feel like it, and network with your industry friends. There will be prize drawings and announcements of the contest and silent auction winners.
---
2022 Exhibitor Information
Floor Plan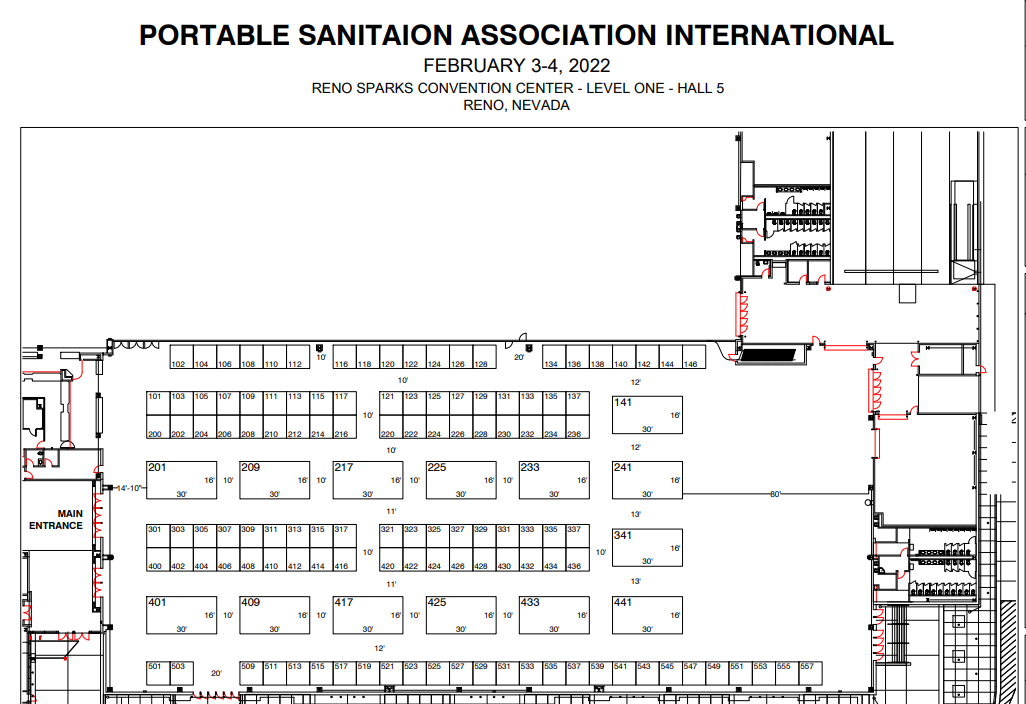 View the most up-to-date 2022 Floor Plan here.
HERITAGE Service Manual & Exhibitor Schedule
Order Online at heritagesvs.com/ordering -- Discount deadline is January 14, 2022!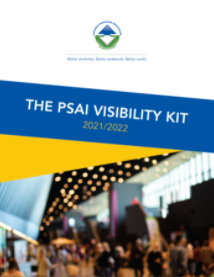 Exhibitor Registration Forms
Exhibit registration forms and contract agreements can be found in the 2021-22 Visibility Kit beginning on page 21. You will need to use these forms to register as an exhibitor at the 2022 Convention and Trade Show.
*Please note: your team members who will be staffing your booth will also need to register as attendees. Attendee registration is now open.
General Service Contractor Information for Registered Exhibitors
Exhibitors for the 2022 Annual Convention and Trade Show will be contacted by our general service partner, HERITAGE. The Exhibitor Kit will be sent to all companies that have purchased space and will be available to order online.
---
Prizes
The PSAI's Conventions offer fantastic prizes each year. In 2022, there will be plenty of opportunities to win, thanks to our generous sponsors. More information on prizes to come!
---
Event Policies
In order to facilitate a positive experience for all, attendees must adhere to the PSAI's event policies. Please review the policies here.