Scholarship Program
Advancement through education is a concept the PSAI has long promoted. Each year the PSAI awards at least five scholarships of up to $5,000 to individuals in our industry who have made a commitment to advancing themselves through higher education.
PSAI Scholarship Criteria and Application
PSAI scholarships are awarded to qualified incoming students and current undergraduates at college or trade school who are employees—or immediate family members of employees—of a PSAI member company in good standing anywhere in the world. Since its founding in 2004, 123 students have received PSAI scholarships totaling $402,500.
The application period for 2024 PSAI Scholarship Awards is now open! The deadline for applications is February 20, 2024, at 4 p.m. EST/3 p.m. CST/2 p.m. MST/1 p.m. PST.
Eligibility requirements:
You must be an employee of a PSAI member company, or the child or spouse of a full-time employee who has

been with the member company for at least two years.


U.S. Students: You must be a high school senior or college undergraduate enrolled full time at a four-year or two-year college, university, or vocational-technical school. Students working full-time at a PSAI member company and attending school part-time (minimum of 6 credits per semester) are eligible to apply.


International Students: You must be a student in the final year of secondary school or secondary school graduates who plan to enroll or students who are already enrolled in full-time university-level studies, for the entire upcoming school year.


You submit a properly completed application and a current, complete official grade transcript. Grade reports are not accepted.


You submit an essay addressing "Future Horizons: Envision the future landscape of the portable sanitation industry." Consider emerging trends, challenges, and opportunities, and propose strategies for the industry to stay ahead in an ever-changing world.



Previous winners may re-apply provided they meet the above eligibility criteria.
This process is managed by Scholarship America. For more information about this important partnership, click here.
We Celebrate Our 2023 Scholarship Award Recipients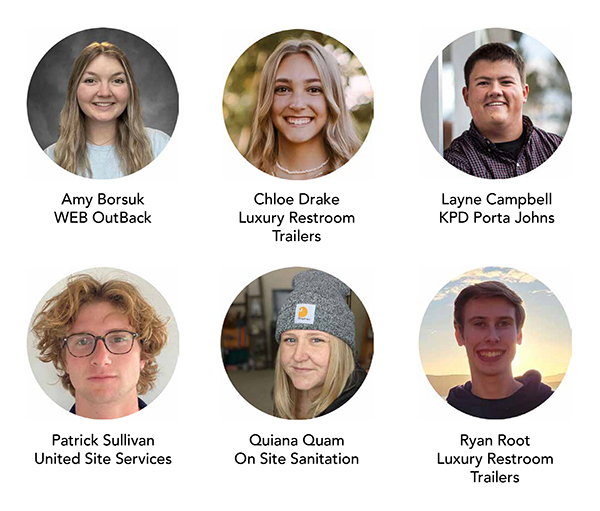 About Our Program
The PSAI Scholarship Program was founded in 2004. Since that time we have provided 123 scholarships valued at over $400,000. We take pride in our growing program and appreciate the generous support of donors throughout the portable sanitation industry who make it possible.

The PSAI's program is overseen by a volunteer commission which sets the guidelines for applicants and selection. The receiving of applications, scoring, and award decisions based on this criteria are made by professional program adminstrators at Scholarship America. This independent non-profit organization provides managerial and financial services for the PSAI and 1,300 other organizations like ours. The partnership ensures that donations to the PSAI program are tax deductible and that awards are based on merit. No one at the PSAI is involved in the selection of award winners.
Click here to learn more about donating to this important PSAI program.
Purchase a PSAI History book (either soft cover or hard cover)—net proceeds will be directed to the Scholarship program
---