Association Insight Newsletter
Association Insight reflects current events, feature articles, and all communication relevant to the PSAI.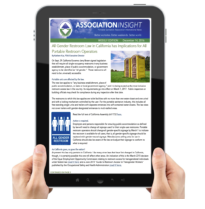 This bi-weekly publication supports PSAI members with updated event information, industry-related news, and the latest and greatest happening with our members. With a goal of being environmentally friendly, Association Insight is only available online or via email to our members.

If you are a PSAI member and are not receiving the bi-weekly emails on alternating Wednesdays with a link to the most current issue, please call the office at +1-952-854-8300 or email us at info@psai.org.
For a quick tutorial, download a pdf on how to use Uberflip.
Would you like to contribute to Association Insight?
Catch Up on Recent Newsletters
---
October
Association Insight October 14, 2020
Ensuring quality in the field part I: General considerations, QC for sinks
Impact on employees when a portable sanitation company sells
Introducing the Member Compass
Scam alert: PSAI does not sell lists
Questions from the field
September
Association Insight September 30, 2020
Maintaining pumps and troubleshooting issues in portable sanitation operations
Fostering mental health in your company
Keep your interviews legal
Tip of the week: Graffiti
Virtual conference concerns and solutions
Association Insight September 16, 2020
2020 Educational Conference and Trade Show schedule
Tips for effective operations before, during and after natural disasters
PSAI reaccredited as ANSI standards developer
Association Insight September 2, 2020
ISO publishes new standards for fecal sludge treatment units
Thoughts and trends for restroom trailers in 2020
Payroll tax holiday isn't all it seems
What makes a virtual conference tick?
August
Association Insight August 19, 2020
Ideal truck for portable sanitation
Cyber security issues affecting the industry
The PSAI is going virtual in November – A message from the President of the Board of Directors
What is a virtual conference like?
Association Insight August 5, 2020
Economic outlook for portable sanitation
Tips for making money in portable sanitation and the rental business
Update on 2020 PSAI Convention and Trade Show in Reno
FDA takes additional action against hand sanitizers containing methanol
---
July
Association Insight July 22, 2020
ADA compliance and portable sanitation practices – equipment limitations, customer attitudes, and new demands
ADA requirements
How to protect your company from ransomware attacks
California lighting requirements for restrooms in ag settings
Association Insight July 8, 2020
Introducing the class pass
Members give us a worldly perspective on deodorizers
How to avoid a hostile work environment
---
June
Association Insight June 24, 2020
New PSAI guidance for COVID-19
Understanding the supply chain for portable sinks and hand sanitizer
What you should know about COVID-19, the ADA, and other EEO laws
Association Insight June 10, 2020
OSHA requires employers to investigate employee COVID-19 cases
Members provide an analysis of 2020 trends
New CDC guidance for construction worker
---
May
Association Insight May 27, 2020
Liability waivers in the age of COVID-19
Portable sanitation offices start reopening
Accommodating at-risk workers
Association Insight May 13, 2020
Leaders weigh in on 2020 events season
Meet the 2020-2021 Board members
Reusing face masks and keeping workers safe during supply shortage
---
April
Association Insight April 29, 2020
COVID-19 testing and the portable sanitation industry
New OSHA requirements for portable sanitation
How to sell remotely
Truth about face masks seizures and supply
Association Insight April 15, 2020
Transportation report provides trucking benchmarks
Providing hazard pay
Demystifying the toilet paper shortage
Association Insight April 1, 2020
OSHA and hand washing stations
Price gouging
Key provisions of the CARES act
Convention and Trade Show retrospective
---
March
Association Insight March 18, 2020
Latest news on COVID-19
Adjusting to business slowdowns
Remembering Frank Ranson
What to know about remote workers
Sample COVID-19 letter to customers
Association Insight March 4, 2020
Driver inspection reports and your company responsibilities
COVID-19 infection potential and precautions for portable sanitation users and personnel
---
February
Association Insight February 19, 2020
Results from waste disposal survey
PSAI celebrates National Retro Day
Association Insight February 5, 2020
Coronavirus and portable sanitation
Dealing with blood-borne pathogens
Meet PSAI award winners
Member update: Karibu Loo
---
January
Association Insight January 22, 2020
ADA requirements for portable sanitation
Customer issue resolved regarding ninety day service intervals
Remembering George Rice
Association Insight January 8, 2020
The economic outlook and its impact on portable sanitation
New Illinois law regarding baby changing stations
---