Satellite Women's Conference Shines a Light on Women in the Industry
Date posted
October 17, 2023
Celebrating the Contributions of Women in the Portable Sanitation Industry
This week, I attended the Satellite Women's Conference in Austin, Texas. While always an educational and fun conference, this event's real power is in its convening of influential women who are now leaders and change makers in a long-time male-dominated industry that's essential everywhere in the world.
I've been lucky to witness so many women throughout my life redefine the landscape of historically male-dominated industries. From engineering and technology to finance and construction, and of course, the portable sanitation industry—their contributions have been pivotal in reshaping these sectors. The first of these women has been my own mother, Mary Crosier, who's co-owned and operated a multi-generation portable restroom company for over 30 years.
While many in the PSAI community know my father, Ron Crosier, as a PSAI past president and owner/operator of Crosier's Sanitary Service, fewer have met my mom (despite her working for Crosier's Sanitary Service several years longer). And who taught my mom how to manage the office? My grandmother, Della Crosier! Two generations of women preceded me in this industry. The image below was taken at the memorial services of my late grandfather and founder of Crosier's Sanitary Service, John Crosier, after the family realized the funeral home did not have a working bathroom! Naturally, one of our amazing service techs left in his suit and tie to load up a unit which we placed proudly outside the main entrance. From left to right: Jill O'Dell (aunt), Della Crosier (grandmother), Veronica Crosier, Mary Crosier (mother).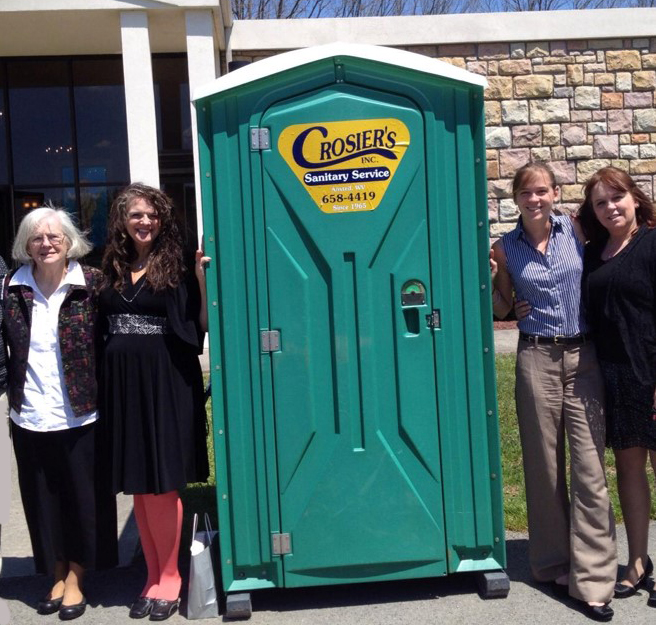 The Satellite Women's Conference really shines the light on women in the industry who may operate behind the scenes, but who are absolutely vital to their company's success whether they are owners, technicians, engineers, mechanics, or administers. It was wonderful to see PSAI represented among the many faces there.
PSAI is fortunate to have a history of women in leadership—including 4 female Past Presidents, 2 consecutive Executive Directors, 30% of the PSAI volunteer base, and 30% of the current Board of Directors. While no place is perfect, I think it is safe to say that women are welcomed, respected, and encouraged in our community. There is a whole chapter in PSAI Through the Decades: A History of Portable Sanitation specifically dedicated to our women leaders throughout the years. Thank you, PSAI community, for demonstrating to me and so many others that women are leaders and changemakers and belong wherever we choose to be. I look forward to seeing that chapter of our history continue to grow!
Sincerely,
Veronica Crosier
Executive Director, PSAI