PSAI PRO-file: Throne Labs, Inc.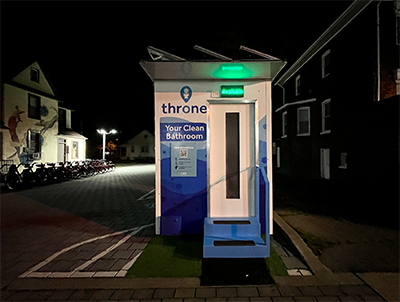 Want to see your company featured in PSAI PRO-files Presents? Email Veronica Crosier at veronicac@psai.org
In this blog post, PSAI hears from Jessica Heinzelman, co-founder and COO of Throne Labs, Inc., located in Washington, DC, as she shares the origin story of this young, innovative company and the high-tech portable sanitation services they're offering today.
Throne Lab's Origin Story, Past to Present
Throne is on a mission to expand access to bathrooms. We aim to do for portable sanitation what Uber did for transportation—expand the market while taking the stress out of finding a sparkling clean bathroom for the 200 million Americans who use a public bathroom every week.
Throne was founded in June 2020 on the premise that by combining new technologies with knowledge and experience from the traditional portable sanitation industry, one could expand the size of the portable sanitation market, and drastically improve the efficiency of portable sanitation operations. Over the past two years, we've developed a proprietary smart bathroom and the software that runs in the background to keep a network of Thrones running efficiently. We've learned all the hard lessons associated with operating a portable sanitation business by building up a traditional portable sanitation operation, informed by real-time data and alerts, and used this real-world operation to inform our decisions around what data needs to be communicated from Thrones, and how to best use that data to increase operational efficiency. More recently, we are thrilled to partner with Satellite Industries to manufacture Thrones. Their decades of experience designing and manufacturing products for the traditional portable industry ensures Thrones are built with the highest level of quality, durability and beauty.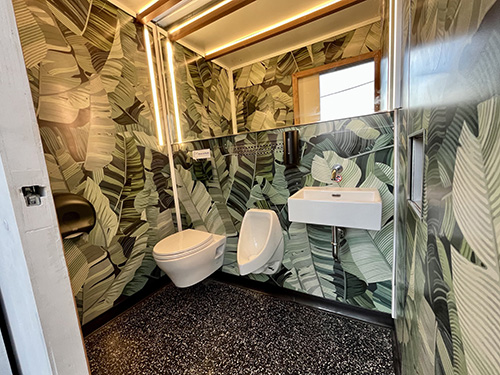 Each Throne has 21 sensors (i.e. waste and fresh water level, power, occupancy) and collects cleanliness ratings from users in real time. Data flows to a centralized dashboard that helps us monitor and schedule efficient servicing and flag issues… usually before customers are even aware. We don't send a truck unless it's needed, and can reprioritize routes and cleaning to keep customers happy without wasting resources.
Our customers and users love Thrones. It's a completely touchless experience with a running water sink, flushing toilet, and robust ventilation (check out the video on our website). While many of our customers are cities and parks that want to provide publicly available amenities, we also offer access control for customers that want to restrict access to a limited group (e.g. transit agencies, dispersed workforces). We use that same technology in the system's user base accountability feature that warns or blocks users who repeatedly mistreat Thrones from accessing the entire network.
We currently service the DMV (DC, Southern Maryland and Northern Virginia) area, but are expanding to new markets this year. As we grow into new areas, we are looking to partner with local portable sanitation pros.
The Throne Labs Team & Culture
We have a diverse group of 20 co-founders and employees including mechanical, electrical, and software engineers; pump truck drivers, field technicians, operations specialists, program managers, marketers, and more! Our founders and leadership team have run a portable sanitation company (Allied Portable Toilets in Charlottesville, Virginia) and worked at companies like Uber, Amazon, and Meta.
We're innovative, inclusive, and invested. We believe that every member of the team has different information based on their role and can make valuable contributions to Throne's product and service. We look to draw out each individual's and partner's expertise and encourage everyone to speak up, share experiences and ideas to make Throne incrementally better at delighting our customers and Throne users. We take an idea brought forward by our pump truck driver as seriously as one shared by our mechanical engineer. Every one of our employees has stock options and feels real ownership over the product and services we are building.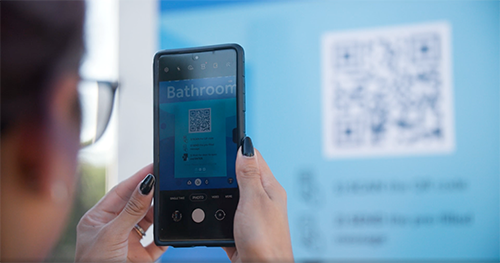 Throne Labs Success Stories
We've been in the television and print news a lot over the past year (turns out futuristic porta-potties are the type of clickbait that news outlets love!). Check out our media at www.thronelabs.co/media.
We're probably most proud of the surprise and delight customers express when they use a Throne. We often share what they post on social media. Follow us @thronebathrooms on Instagram, Facebook, and Twitter or you can find us at "Throne Labs" on LinkedIn.
Biggest Challenges?
Resources (...but who can't say that?)! We have interest from a number of major municipalities that want to pilot Thrones and we're constantly struggling to decide which bets to take with limited resources. We're dealing with this in two ways: 1) developing relationships with portable sanitation pros that we can partner with to gain local knowledge and service Thrones in new markets; and 2) opening a community fundraising round to raise the funds to take a few big bets. As we all know in this business… takes money to make money!
Final Thoughts
We are just super grateful to be part of this community. We've attended the PSAI Annual Convention twice now. In Memphis, we learned things just walking around the Trade Show that it took us two years to figure out on our own. We've been blown away by how friendly and helpful everyone is in this community and so glad you all are accepting of quirky newcomers like Throne!
Want to learn more about Throne Labs? If you are interested in partnering on service, please reach out! Contact Jessica Heinzelman, co-founder & COO at jess@thronelabs.co If interested in investment, contact Throne Labs CEO Fletcher Wilson at fletcher.wilson@thronelabs.co or check out the Throne Lab Wefunder page where PSAI members can get first access at www.wefunder.com/throne. We have a snazzy video there that also shows more about the market we are building and how the Throne works.