PSAI Hosts Trainings and Welcomes New Members at WWETT 2023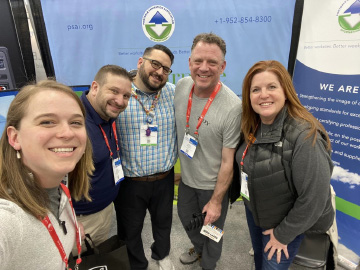 Last month, PSAI made our annual appearance at the Water & Wastewater Equipment, Treatment & Transport Show (better known as WWETT) in Indianapolis, Indiana. The WWETT show is the largest annual trade show for wastewater and environmental service professionals and they regularly invite PSAI to provide several of our training courses as part of their education opportunities. Several PSAI board members helped represent our association (see photo at left).
To kick off the week, PSAI Trainer and Board Member Josh Perez (shown below) facilitated two of PSAI's advanced courses—Portable Sanitation and Special Events and Portable Sanitation: Preparing for Extremes. This year, nearly 200 individuals participated in these courses.
During the trade show, PSAI Executive Director Veronica Crosier had the opportunity to meet many new PROs in the industry and introduce them to our association. We welcomed at least four new member companies during the show and have seen more members joining in the weeks since!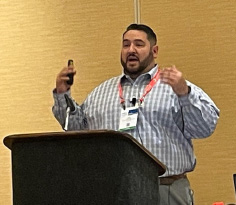 Of course, PSAI enjoyed catching up with many of our Supplier Members and seeing some familiar faces.
If you attended and enjoyed the WWETT Show, you won't want to miss the PSAI Nuts & Bolts Education Conference this fall! Mark your calendars for Oct. 31–Nov. 3 and join us in Atlanta, Georgia, for some education, networking, and fun.