Member Spotlight: Mike White, PSAI Service Technician of the Year
This issue, we're doing something a little different for the PSAI Member Spotlight and sharing a guest article written about PSAI's Service Tech of the Year, Mike White with PortaPros in Idaho. Mike's employer, Carl Arriola, gave a moving speech before presenting Mike with this prestigious PSAI award, so we found it fitting to share this great article he wrote for PortaPros that highlights what makes Mike such an outstanding person.
Who is a service tech you appreciate? We'd love to spotlight them next! Email veronicac@psai.org with subject line, "Member Spotlight."
PortaPros' Mike White Earns PSAI Service Technician of the Year Award
By Carl Arriola, PSAI Board of Directors Treasurer, President of PortaPros, Nampa, Idaho
After a long delay, our teammate Mike White received the Portable Sanitation Association International's (PSAI) coveted award as 2020 Service Technician of the Year. The PSAI had little trouble in selecting Mike for this award based on his track record of excellence and success in the industry.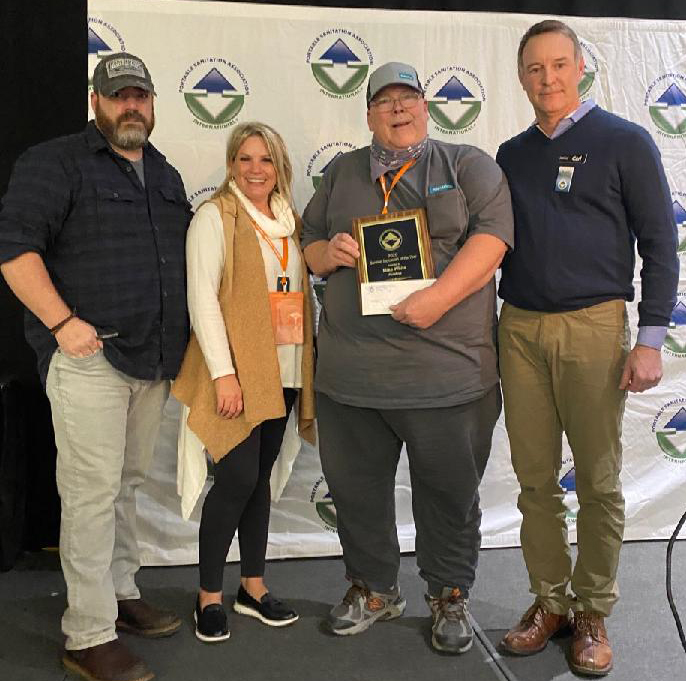 Mike began working in 1976 and has never stopped. Throughout high school, he worked several jobs averaging 35 hours per week, along with attending school. Those early occupations included working in the Rialto, California, school district printing facility and delivering papers for the L.A. Times.
After that, Mike worked for many years in the printing industry along with a handful of years in the construction trade. While in construction, Mike encountered portable toilets and he decided how he would approach the business if he ever had the chance.
In 2006, Mike moved from California to Ontario, Oregon, and began working for Anytime Portables. Mike learned septic, portable toilets, special events, and emergency response, along with a lot of valuable information about equipment and servicing. "I just liked the people, the idea of helping to create clean facilities at jobsites and events," said Mike. "Being out in construction all those years, I saw the portables and I thought, if I get to do this, I'm going to do it right."
In those early days with Anytime, Mike covered a lot of the business by himself. The company grew over the years, and eventually expanded through the acquisition of Treasure Valley Toilets. Fast forward to Spring 2019 when our company was in the process of acquiring the Eastern Oregon based company, Anytime Portables, and the name "Big Mike" kept coming up. This character was doing it all—the services, running the crews, fixing the equipment, and interfacing with the customers.
It did not take us long after meeting Mike to match up his talents and capabilities with his new role as PortaPros' Ontario Operations Manager. Today, he is a valuable contributor within our company's management and strategy team. He makes the people around him better and he is full of gratitude and a growth mindset. He is running a multi-million-dollar business and we're glad he found his way to our company.
It was fun to be a part of presenting Mike's award at the PSAI's annual convention and trade show in Reno, Nevada. Mike, your industry and your company are proud of you.
A Quote from Carl about Mike
"Mike is simply outstanding at all aspects of being a portable sanitation professional and he just has a passion for doing it right and holding himself and his team accountable to doing it right."