Remembering Al Hilde
Date posted
August 7, 2023
PSAI founding member Al Hilde, Jr., passed away July 28, 2023, in his home at the foot of the Grand Teton Mountain Range in Wyoming. He was surrounded by family. Al is survived by his wife of many years Jayne; Sons Tim (Lynn), Todd (Erika), and Bret; Sisters Carol Stewart, Ann (Mark); Grandsons Matthew (Angi), Michael (Michelle), Jackson, Shannon Larson (Andrea), Nick Larson (Crystal), Ryan Foley (Ashleigh), Tyler Foley, Nick Foley and many beloved great-grandchildren, nieces, and nephews. He also leaves behind many respected colleagues and friends. He was a devoted husband, father, and grandfather who took pleasure in creating special times of adventure for his family.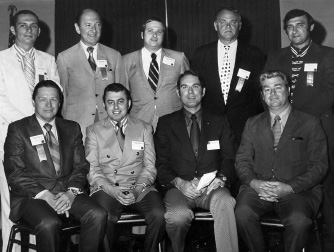 The photo shows PSA's first elected Board of Directors;
Al Hilde is circled.
Al served on the first board of directors of the Portable Sanitation Association when the organization was incorporated in 1971. Satellite Industries has been a member of PSA and PSAI since that time.
Al was born May 25, 1933. After attending high school in LaCrosse, Wisconsin, Al went on to the University of Minnesota, graduating with a degree in business administration. After he and Jayne were married, he was drafted into the U.S. Army; they spent two years at Fort Sam Houston in San Antonio, Texas.
Upon returning to Minnesota, Al started Satellite Industries in 1958, which brought outdoor restroom facilities to the construction industry. He believed that portable toilet services would be an essential service for many to provide dignity, convenience, privacy and moreover to protect public health and the environment. To that end, Al Hilde, Jr. built the first wooden prototype toilet, followed by a service truck equipped with a vacuum pump and waste tank, and a deodorizer formula to capture odor and breakdown waste with a pleasing fragrance. Under his guidance, Satellite Industries flourished, becoming a global leader in the industry. Satellite grew to an international business as Al opened markets throughout Europe, Asia, and South America. In 1972, he expanded the business by establishing Satellite Shelters—one of the largest privately held companies in the mobile office space market, renowned for its innovation and service.
Al's interests did not stop with his business. His involvement included president of the local PTA to leadership in church activities at Wayzata Community Church, to serving on the board of the Minnesota Orchestra and many other community boards. He also became involved in local politics, serving as mayor of Plymouth, Minnesota, 1968-1977. He became interested in bringing the sprawling suburban community together, leading to an annual concert by the Minnesota Orchestra. When that performance outgrew the parking lot where it was based, Al and Jayne donated $1 million to build an open-air amphitheater near the Plymouth City Hall. The Hilde Performance Center opened in 2002.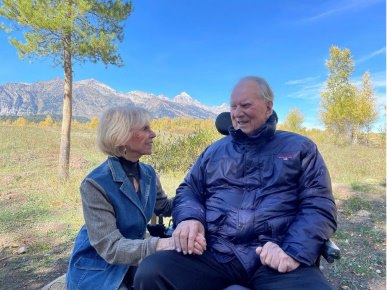 Al with his wife Jayne at their home in Jackson, Wyoming
Drawn by his love of hunting and flying, Al and Jayne built a home in Jackson, Wyoming, where they lived for 30 years. They were active in the community, and Al became president of the Grand Teton Music Festival. Al and Jayne are lifetime directors of the festival.
Flying for business and pleasure, Al logged over 10,000 hours. Maintaining his interest in business, Al started a fixed-base operation in Jackson, Wyoming, and with a partner, it became Jackson Hole Aviation. He also purchased Western Aircraft in Boise, Idaho, which was a distributor for Pilatus aircraft.
Generous by nature, Al donated time and treasure with many nonprofit organizations. He formed the Westwings Family Foundation so that his philanthropy would continue after his passing.
A celebration of Al's life will be held August 15, 2023, at 4 p.m. at Wayzata Community Church, 125 E. Wayzata Blvd., Wayzata, Minnesota, followed by a reception at the Wayzata Country Club.