PSAI History Books
Date posted
January 11, 2023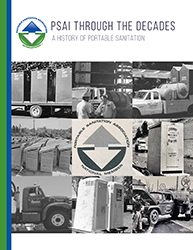 The fascinating history of our portable sanitation industry has been compiled and is now available to all! For PSAI members, nonmembers, family, friends, retirees, U.S. and international companies, this book is a "MUST READ" for everyone.
PSAI Through the Decades: A History of Portable Sanitation traces the beginning of our industry in the 1940s through when we were designated an "essential industry" at the onset of the COVID pandemic.
The dedication and influence of the Portable Sanitation Association International (PSAI) over the last 50 years has further enhanced our industry, as this book shows.
All net proceeds will benefit the PSAI Scholarship Program (additional contributions to the Scholarship Program are gladly accepted at checkout).
Order soft cover books
Order hard cover books