Member Spotlight: Chris McCarthy
One of the most commonly cited benefits of being a PSAI member is the networking and friendships. But with hundreds of members nationally and worldwide, it's impossible to meet you all! Our "Member Spotlight" is a way to highlight the diverse faces of PSAI.
Who should we get to know next? Email veronicac@psai.org with subject line "Member Spotlight" to nominate our next member.
This week's Member Spotlight goes to Chris McCarthy, President of Mr. John located in Pittsburgh, Pennsylvania. Chris also serves on the PSAI Board of Directors, Finance & Audit Committee, and is co-chair of the Standards & Guidance Committee where he is steering efforts to ensure the best quality and to update national standards related to portable sanitation.
Chris, share a little about yourself.
I was born and raised in Highland Park, New Jersey, leaving the Garden State in 1997 to start my freshman year at the University of Pittsburgh. I joined Mr. John in April 2000 as a second-generation member of the family business, and held many jobs over the years—including assembling, demolishing, pumping, cleaning, and delivering portable toilets, servicing large events, dispatch, marketing, sales, HR, safety, and accounting.
I now live in Pittsburgh's Highland Park neighborhood with my wife Caitlin, sons Ace and Deuce, and our dogs Basil and Sargas.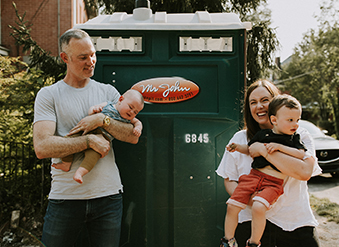 How long have you been a PSAI member?
Our company has been a member since 1985 and I attended my first PSAI events in the late 1990s (Philadelphia and Portland).
What has been the best part of being a PSAI member for you?
For me, the Annual Convention and the Nuts & Bolts Educational Conference are the best part of PSAI membership. PSAI events have given me the opportunity to travel all over the country and different parts of the world, build lifelong friendships, and exchange ideas with peers who are generous and passionate about the industry.
What brought you to the PRO industry and what were you doing before that?
My first experience with our industry was working in the Mr. John shop during my high school summer breaks, and at that time I was mostly excited to earn a paycheck and meet interesting people. After college, I accepted a full-time position with Mr. John because of the company culture, family atmosphere, and opportunity for growth.
Before Mr. John I was a full-time student and worked different part time jobs, including rec soccer referee and busboy.
Favorite pastimes?
When not thinking about toilets I enjoy cooking, pick-up basketball, golf, and exploring Pittsburgh's unique neighborhoods, scenic parks, and world-class restaurants.