Types of Units
There are many types of portable sanitation units, ranging from portable toilets and hand wash stations, to restroom trailers and shower trailers, among other portable sanitation industry products. The following list offers a brief overview of these products, highlighting their differentiating uses and features.
Commonly Available Equipment
Portable Restroom Units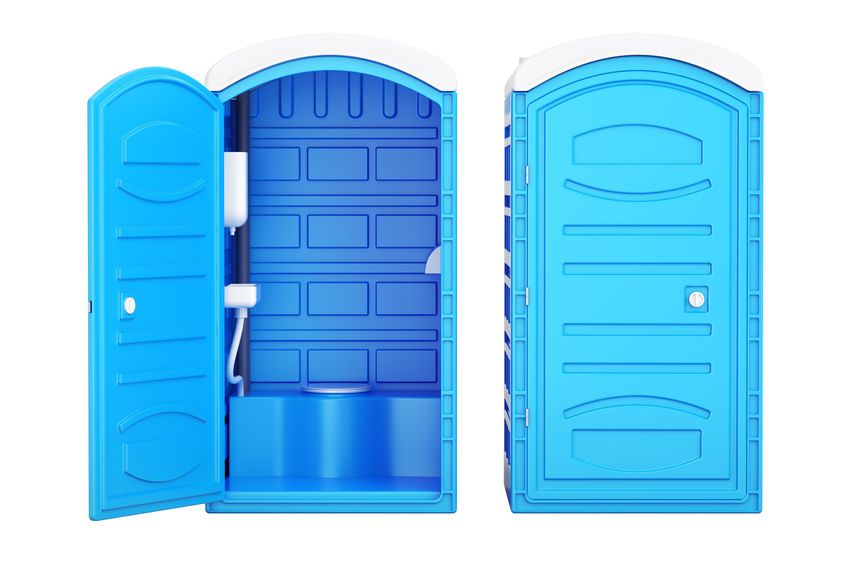 Standard portable restrooms are available from portable restroom providers all over the world.
Although their features may vary somewhat from continent to continent, the most common portable restrooms do not flush. Instead, waste is held and odor is neutralized inside a tank. These units support about 200 uses before they need to be cleaned. The portable restroom unit itself usually contains, at a minimum, both a seat with a lid and a urinal, toilet paper, a door with a privacy lock, and a coat hook. They are typically vented to minimize odors.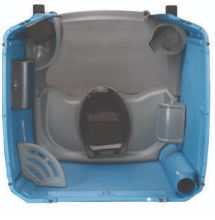 Portable Restroom Units with Sinks
Most portable restroom providers offer upgraded versions of the basic portable toilet, offering added features for an increase in price. One such upgrade offers an in-unit sink, soap dispenser and a hand drying option to accompany a standard holding tank, urinal, and toilet paper dispenser. Sometimes, in lieu of a sink, the units offer a hand sanitizer station instead. By selecting a portable restroom with a built-in sink or sanitizer options, the need to consider separate hand cleaning options is eliminated.
Units with Flushing Capability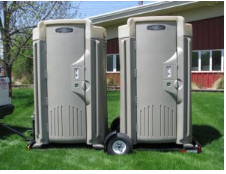 When looking for portable sanitation that meets slightly more upscale needs, flushable units are a sensible solution. With a closed holding tank that is accessed by a foot-pedal flushing system, these restrooms allow for an added level of comfort. Flush-capable products oftentimes feature added interior space, mirrors, in-unit sinks, soap dispensers, and hand drying options.
Hand Wash Stations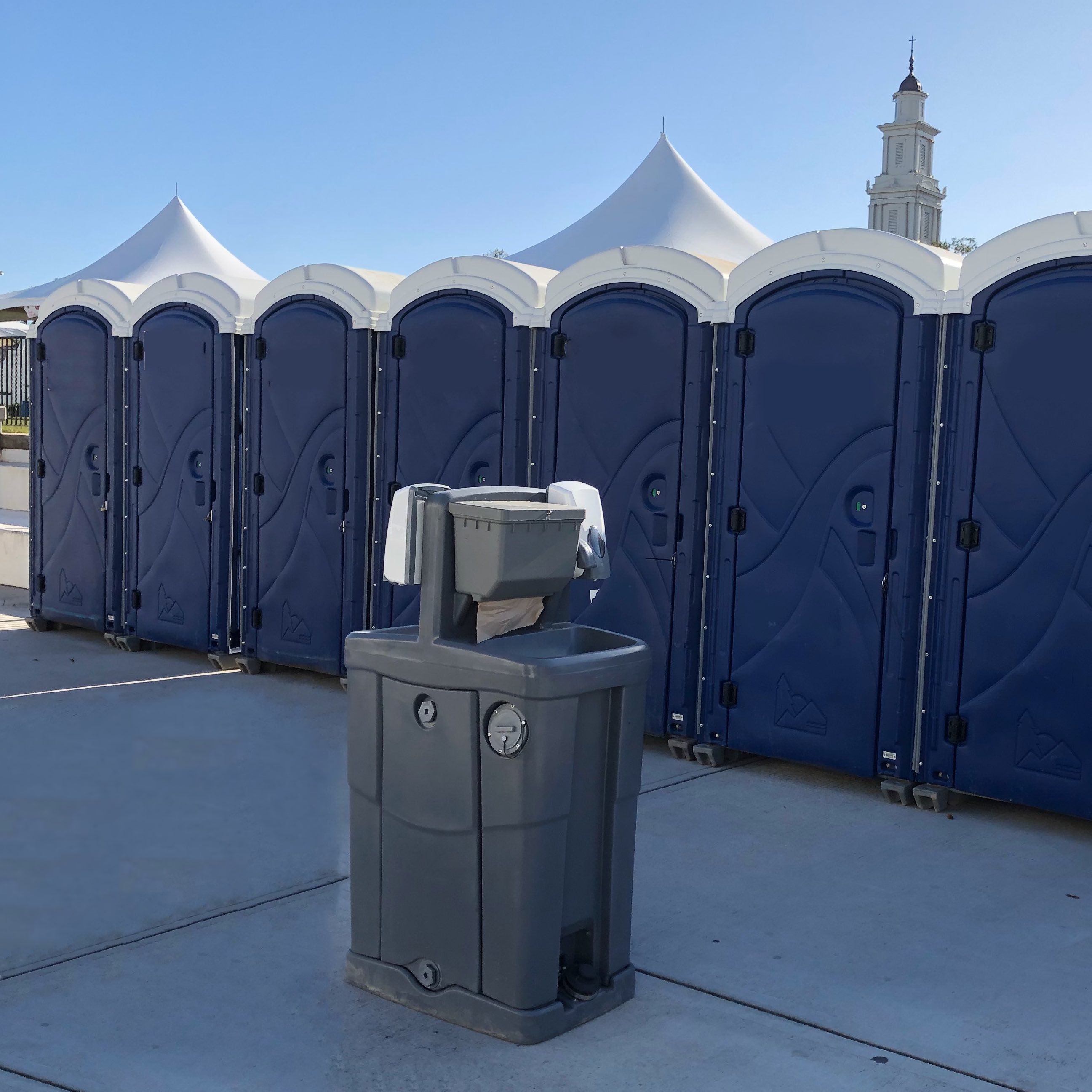 If choosing to forgo a portable restroom with a built-in sink or hand sanitizer pump, portable hand washing stations are often an appreciated or legally required amenity.
Hand washing stations are commonly available with one, two or four sinks per structure. Each sink provides a foot-pedal activated faucet, a soap dispenser, and a hand drying option. Typically placed outside and near the portable restroom units, these stations reassure event guests that proper sanitation is a priority. They also assist event planners in complying with state or local laws regarding equipment for work sites or outdoor food preparation areas.
---
Equipment for Specific Needs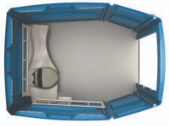 Accessible and ADA-Compliant Units
Similar to a standard unit, these restrooms typically provide a non-flushing holding tank, urinal, and toilet paper dispenser. They offer additional square footage for wheelchair accessibility or other needs, and also featuring handrails on three of the four walls. Some events are required to provide ADA-compliant units in order to comply with Americans with Disabilities Act (ADA) regulations for any guests with disabilities. In other cases, accessible units are the right answer because they are smaller than ADA-compliant restrooms while still providing additional room for parents with children or other special needs.
Units with Baby Changing Stations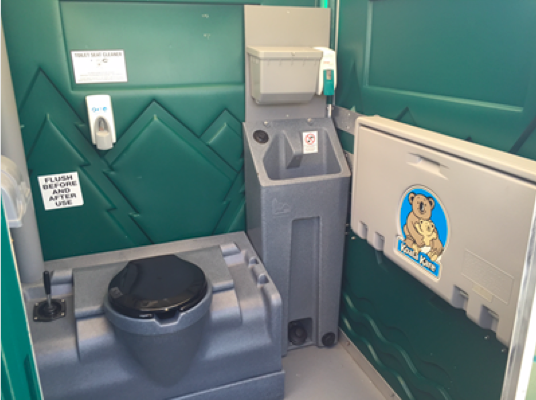 When families with children will attend your event, baby changing stations are a practical feature to offer in some of your portable restroom units.
For the adults, these units are usually offered with the same equipment options found in any portable restroom. They also feature extra room and a baby changing station affixed to one of the interior walls. In the photo at the right, the unit contains a flush toilet, hand sanitizer, a hand wash sink, and a baby changing station.
Specialty Units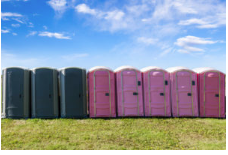 Some units are designed with a specific audience or theme in mind, often with alterations to the look and features of a unit to accommodate a single group. For example, there are providers that carry child-sized portable restrooms, which have shorter exteriors and lowered accommodations, sometimes with a step stool below the toilet seat. Others offer pink portable restrooms that are geared toward women and, often, part of the proceeds of renting these units are donated to breast cancer charities.
These units offer extra perks, such as purse hooks, floral air fresheners, and in-unit mirrors that are added with women in mind. Ask your portable restroom provider to see what specialty units may be available.
---
Luxury Options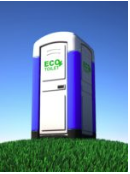 Solar Panel Units
Featured only in select areas depending on energy intake, solar portable restrooms provide in-unit lighting without the need for electricity. These structures tend to differ from the plastic exterior of a standard unit, are often roomier, and have the interior of a common, indoor bathroom. A typical solar restroom will come equipped with a countertop sink, mirror, soap dispenser, hand drying option, and pedal-flushing capabilities.
Restroom Trailers
In contrast to the standard portable unit, restroom trailers feature multiple individual stalls and sinks, with the potential for a separate urinal area within as well. With amenities ranging from in-unit air conditioning, in-unit lighting, and a running water hookup, restroom trailers provide the comfort of an indoor restroom when none are available. Luxury versions are most frequently used at outdoor weddings and other luxury outdoor events, and they also have been used to provide an upscale option during remodels. With a range of interior design elements, from granite countertops and custom cabinetry to high-end flooring and light fixtures, these trailers are a far cry from the standard portable restroom unit. At the other end of the spectrum, some restroom trailers are outfitted with more rugged amenities and placed on job sites to ensure workers have a warm place to take care of nature's call and to wash their hands, regardless of the weather.
Shower and Laundry Trailers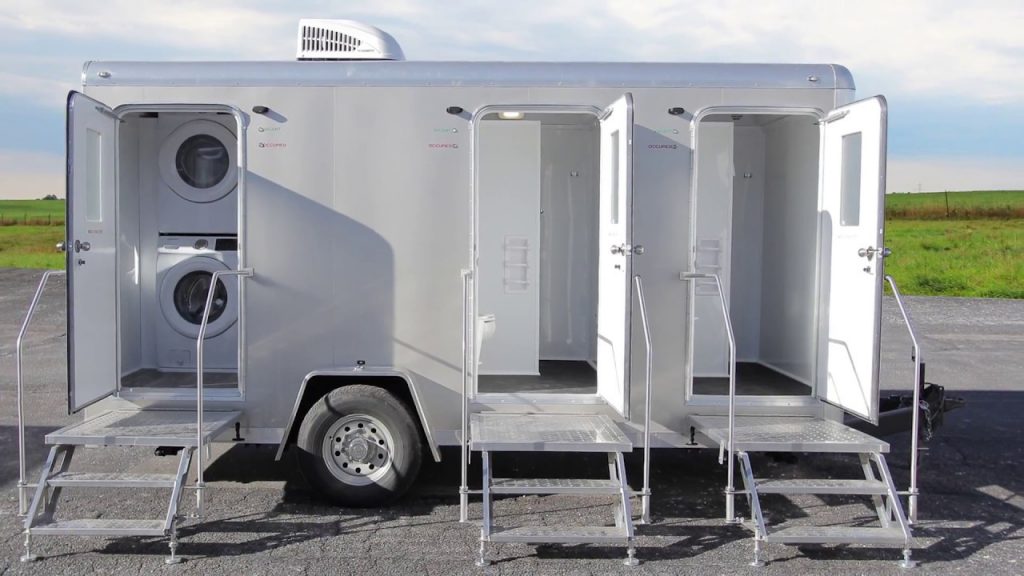 When disaster strikes or a lot of people are a long way from home, specialty trailers that provide showers, laundry facilities, or both can save the day.
While the interior of the trailer may differ by portable restroom provider, these units each typically provide multiple shower-stalls featuring hot water and cold water options. Some may offer a communal area with sinks, mirrors, and cabinetry, while others may be split with a portable toilet option in the same trailer. These portable showers are rented for job sites, outdoor sporting events, overnight festivals, and more.
Laundry trailers are often used during disaster recovery, at large group camp sites, and remote job sites.
With such a wide range of options, it is possible to find the appropriate type of portable sanitation equipment, no matter the need or event.