Recent Award Winners
Congratulations to our industry leaders!
2019 Andy Gump Award Winner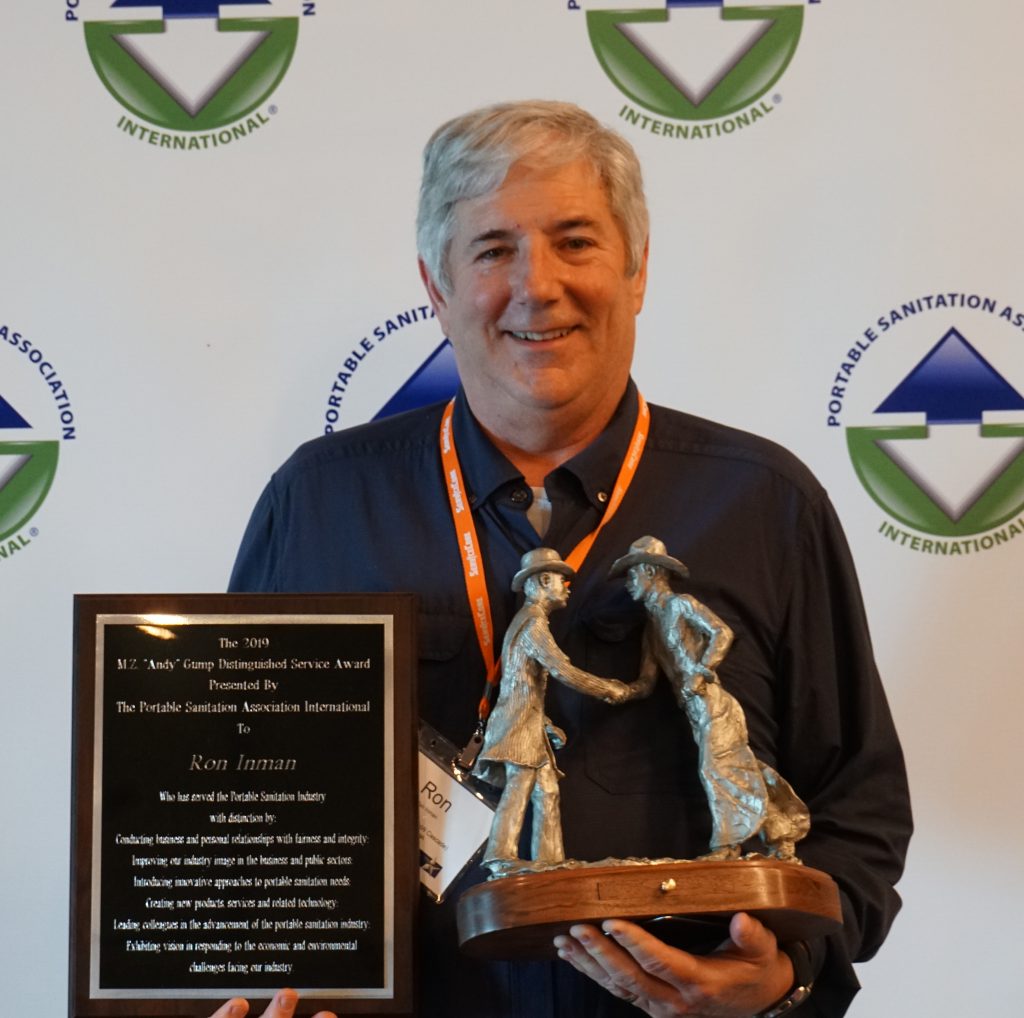 Ron Inman
Northwest Cascade Honey Bucket
Ron Inman, Vice President of Northwest Cascade and General Manager of the company's Honey Bucket Division (NWCHB), is the 2019 M.Z. "Andy" Gump Award winner.
Inman has spent his life improving and expanding the portable sanitation industry, and he was recognized with its most prestigious honor at the PSAI's 2019 Annual Convention and Trade Show in Mobile, Alabama on March 27.
---
Several industry leaders nominated Inman, telling stories of his leadership, personal mentorship, friendliness, honesty, and integrity. One letter summed up Ron's career as follows:
After the [current NWCHB leadership team was in place], the company began to grow and thrive into a powerhouse in the Northwest region of our great nation.

Ron Inman was instrumental in this growth. He was on the team from the earliest moment and worked his way up the management ladder to his present position. It was through his constant attention to the service detail and nurturing employees that his Company achieved this success. I have had the privilege to work alongside Ron on a number of projects. Some of these projects were strictly PSAI related. One of the closest projects we worked together on was the 2002 Winter Olympics in Salt Lake City, Utah.

While we were preparing for the Salt Lake event, beginning in 2000, our 5 PSAI member-companies team was unanimous in selecting Ron as our overall leader. It did not take much persuasion for all of us to arrive at this decision. During all of the numerous meetings and planning sessions leading up to our bid submission, Ron was very active in laying out our meeting agendas and constantly thriving to make sure that after every meeting we all stayed on task. It was his performance leading up to our bid submission that gave every principal from the 5 companies the utmost confidence to place him in overall charge of the event once the bid was awarded.

It was during those 2 ½ years of working directly with Ron on that event that I really got to know Ron and gain an insight as to his ability and skill at leadership. The event was one of the largest, if not the largest, winter service events in the history of our Association. At every turn, Ron made sure that we operated with the highest level of honesty and integrity. Whether he was dealing with one of the owners of the 5 companies or the principals of Bechtel Corporation, the event manager, Ron was the epitome of calmness and composure. He was the perfect person for the tremendous responsibility thrust upon him.

During the subsequent years, I have had many opportunities to interact with Ron and a number of the folks from NWCHB. In all instances, they are highly trained and professional in all aspects of our industry. That speaks volumes to me of the impact that the principals of NWCHB have had on their nurturing as managers and employees. Ron, in his position, is one of the most influential to these folks and has helped in a significant way to bring about this culture of success. I would venture to say that there is not a company within our Association that would not thrive and achieve unbridled success with someone like Ron Inman as their mentor and leader. HWBNC is truly fortunate to have this dynamic leader as theirs.
Ron Inman has been a leader within the PSAI over the course of his decades-long career. He is a past president of the Board of Directors, and he has served on numerous committees throughout the years. To do Mr. Inman and his career justice, the PSAI enlisted the assistance of several nominators, co-workers, and family members to produce a video addressing the myriad reasons he deserves to be among the pantheon of the portable sanitation industry's most respected leaders.
---
2019 Service Tech of the Year Winner
Alberto Guerrero
JW Craft Portable Restrooms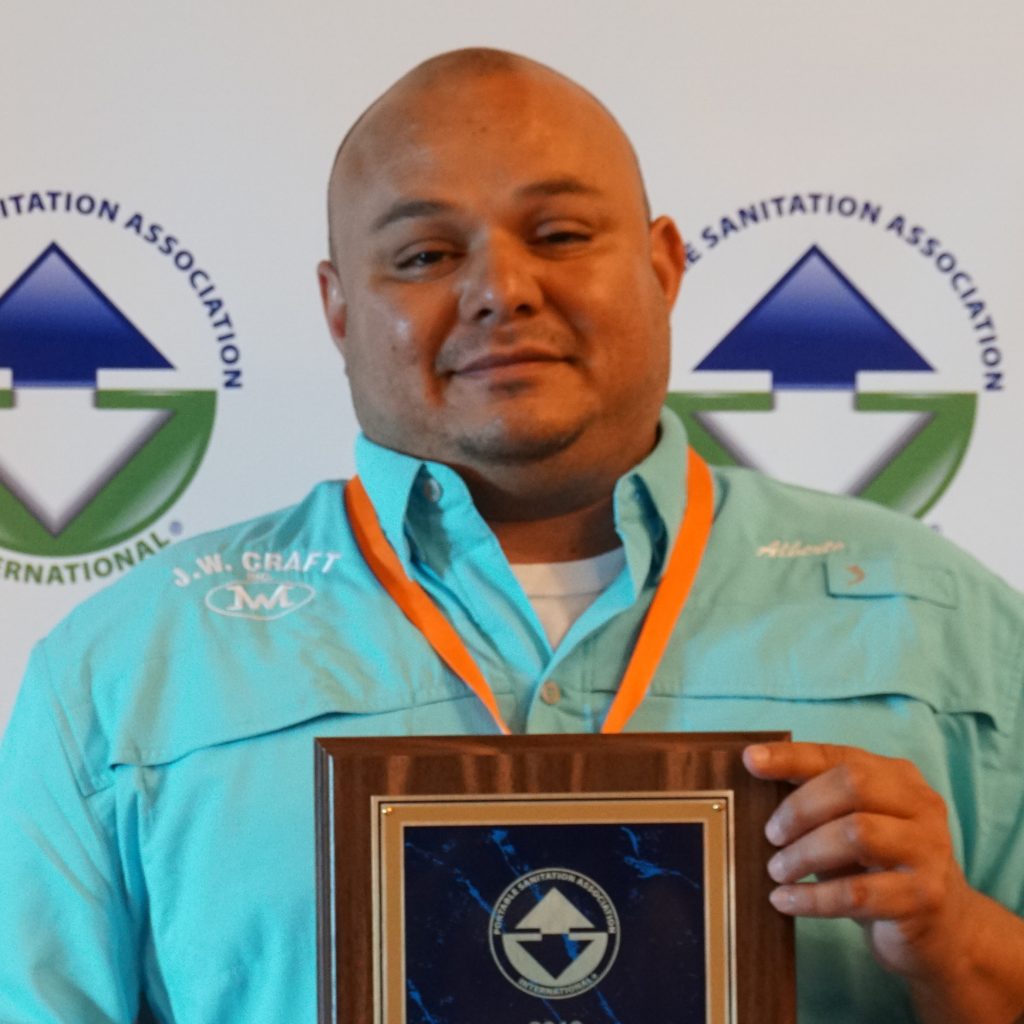 Alberto Guerrero has been in the portable sanitation industry for four years. He is bi-lingual and PSAI certified. He is one of two Lead Service Technicians at his company. He trains new hires for route positions and special event services. Alberto also plays an important role in the firm's supply choices. He will test products out in the field and give management his unbiased opinion of what works well and what doesn't.
Alberto is one of those rare people who is both a stickler for detail and very humble about how that looks. According to his nominator, his paperwork is "nothing less than perfect." He is "religious" about turning in his DOT sheets and communicating with his team members. He is also very particular about caring for company equipment. In the four years he has worked at JW Craft, they have purchased several new trucks – and he's always offered a new truck to drive. Alberto always declines the new truck because he is happy with the one he has and he takes care of it.
Alberto has been offered a promotion to supervisor on more than one occasion, but Alberto prefers to be in the field working with customers. In the past four years at JW Craft, the company has never received a single complaint about Alberto's route. In the four years he's been at the company, he missed one day of work – on an occasion when his wife was in the hospital. When that happened, he insisted on covering his missed route on Saturday – his usual day off. In fact, his nominator says, "Alberto does not miss services. Not ever." She also tells this story:
Alberto was my first Service Technician hire. I will admit, I was nervous the day before. I truly didn't know what to look for so I reached out to [someone I respected] and asked him "How do I interview a candidate for a Service Technician role? What do I look for, and what questions do I ask to get the information I need in determining if a particular candidate qualifies?" I listened carefully and was prepared for the following morning.

When Alberto arrived for his interview, I was very "text book" and did everything my friend suggested. However, my personality is what it is, so I disclosed my background, that I was a new owner, what our goals were and how we can work together in accomplishing those goals. I prefer transparency from the start. [Alberto] was on board with everything I said and has continued to help me reach our goals for JW Craft.

I think showing a little vulnerability to Alberto helped build the relationship we have. I don't view him as an "employee", we are truly a team. Nominating Alberto is not only important to show him our sincere appreciation but it's important to me since he has been with me during my journey as a new business owner. I wish I could clone him!

Alberto's fan club extends to customers as well. He doesn't just service his job sites. He gets to know his customers as well. Alberto then makes suggestions on a daily basis regarding placement of toilets, increased toilet quantities and services so the end user has a better experience. Management frequently gets compliments about Alberto and his work. For example, a job site superintendent said this:

I have been working as a superintendent throughout Florida for 18 years. The service I consistently receive from JW Craft is second to none. In particular, Alberto Guerrero exceeded anyone I have ever worked with. Alberto made a point to introduce himself at the beginning of the project. He gave me his contact information and back up contact information in case he couldn't be reached. He was friendly and motivated. He continued to communicate, but never intrusively, throughout the project. A job site is a dynamic environment. Alberto showed keen awareness of this fact and would often come to me to suggest some relocations or even additional toilets if he saw a need. He was energetic and timely. He never made excuses and always tried to accommodate the needs of the project. This is the first time I have written a letter for a service tech – and probably the last. Alberto is a good man, and his work ethic and results should be celebrated!
---
2019 Service Tech of the Year Runner Up
Jeremy Johnston
On Site Companies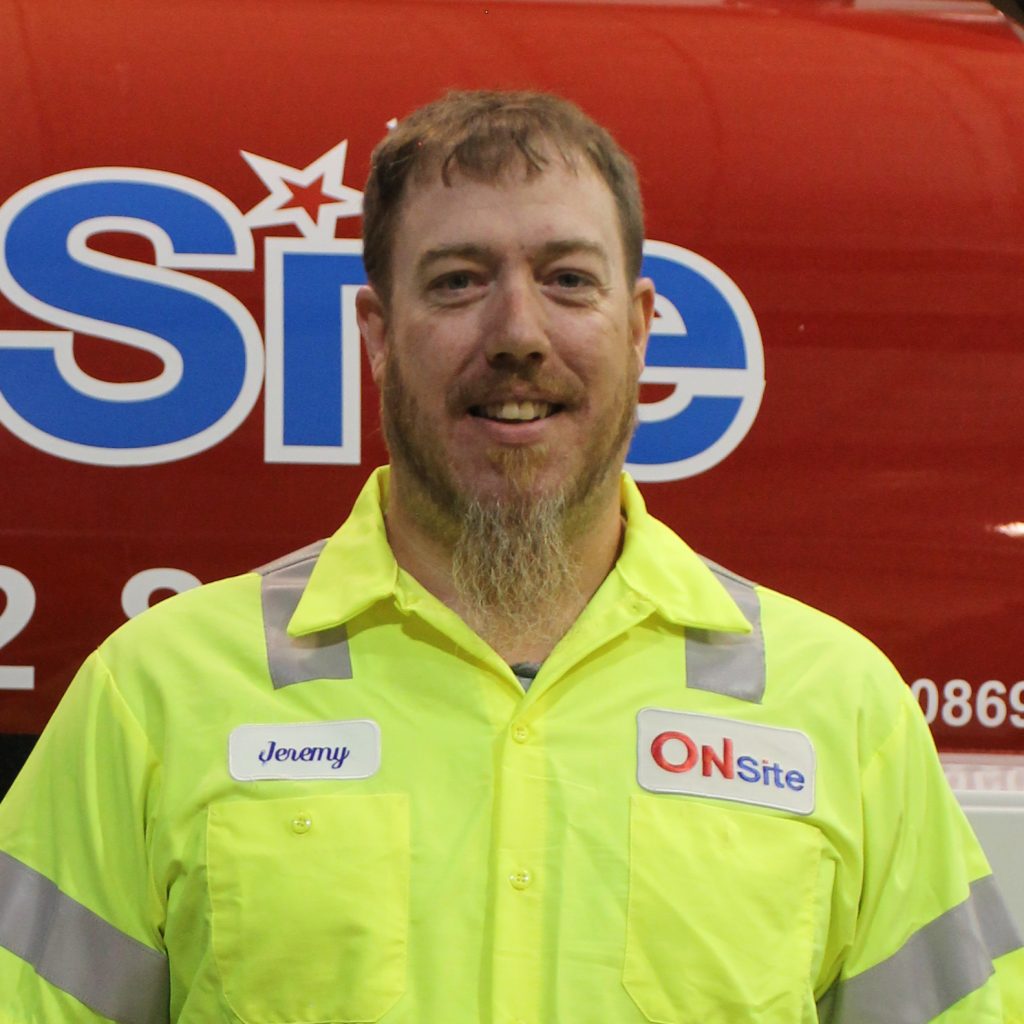 Service Technician Runner Up Jeremy Johnston has distinguished himself as a top performer and example for others at On Site Companies ever since he joined the On Site team eight years ago. While there are many outstanding service technicians in our industry, there are a select few who are able to do all the things Jeremy does with ease every day – things that might seem easy and basic but aren't as easy as they look. For example:
Jeremy has excellent attendance, usually arriving at the shop early and setting an example for others. In 2017 he had "perfect attendance" for the entire year and won a company award.
He also has won company safety awards for the past four years. This award encompasses both site safety and driving safety, and only people that have had no safety incidences for the entire year are eligible for it. So if you are paying attention, you know that means Jeremy has had no safety incidents for four years – and he's an example of safety for others.
Only a service technician can fully appreciate how hard it is to make driving a 16 unit portable restroom hauling trailer look easy, but Jeremy routinely does that too. He's also entrusted with picking up and delivering the company's high end luxury restroom trailers, and always completes these tasks in the safest and most efficient manner.

Here's what his nominators say about him:
"Jeremy is always looking out for the safety of himself and the team. He is an excellent driver and he's made a great difference at our company."

"As a sales rep, selling a service is a very important part of the sales process. Having service techs that will embrace and uphold the high standards of the company is a key factor in both acquiring new customers and maintaining existing customers. Jeremy has always excelled in that aspect of the job. Jeremy is very reliable, conscientious, respectful, and very good about interacting with the job site contacts to assure they are getting the proper service that was needed. He is also very good at mentoring and training the new service techs.

[Jeremy is] very aware of the competition, and [he his great at] informing us of new opportunities.

Jeremy is exceptional at performing the overall service, safety, and quality that [our company] is known for.

Jeremy strives to find the most efficient way to run both service and P&D routes. He exceeds company standards by making suggestions to improve route efficiency.

Jeremy is very conscientious on unit placement and leaves detailed notes for both service and P&D work orders so that other route drivers can easily find and service the units and equipment.

Jeremy Johnston truly goes the extra mile to ensure the customer's satisfaction and gladly accepts additional tasks from dispatch when necessary to serve customers or help his colleagues. He is very helpful and eager to work, whether it is on the route or in the shop.
---
2019 Volunteer of the Year
Jake Groen
PolyJohn Canada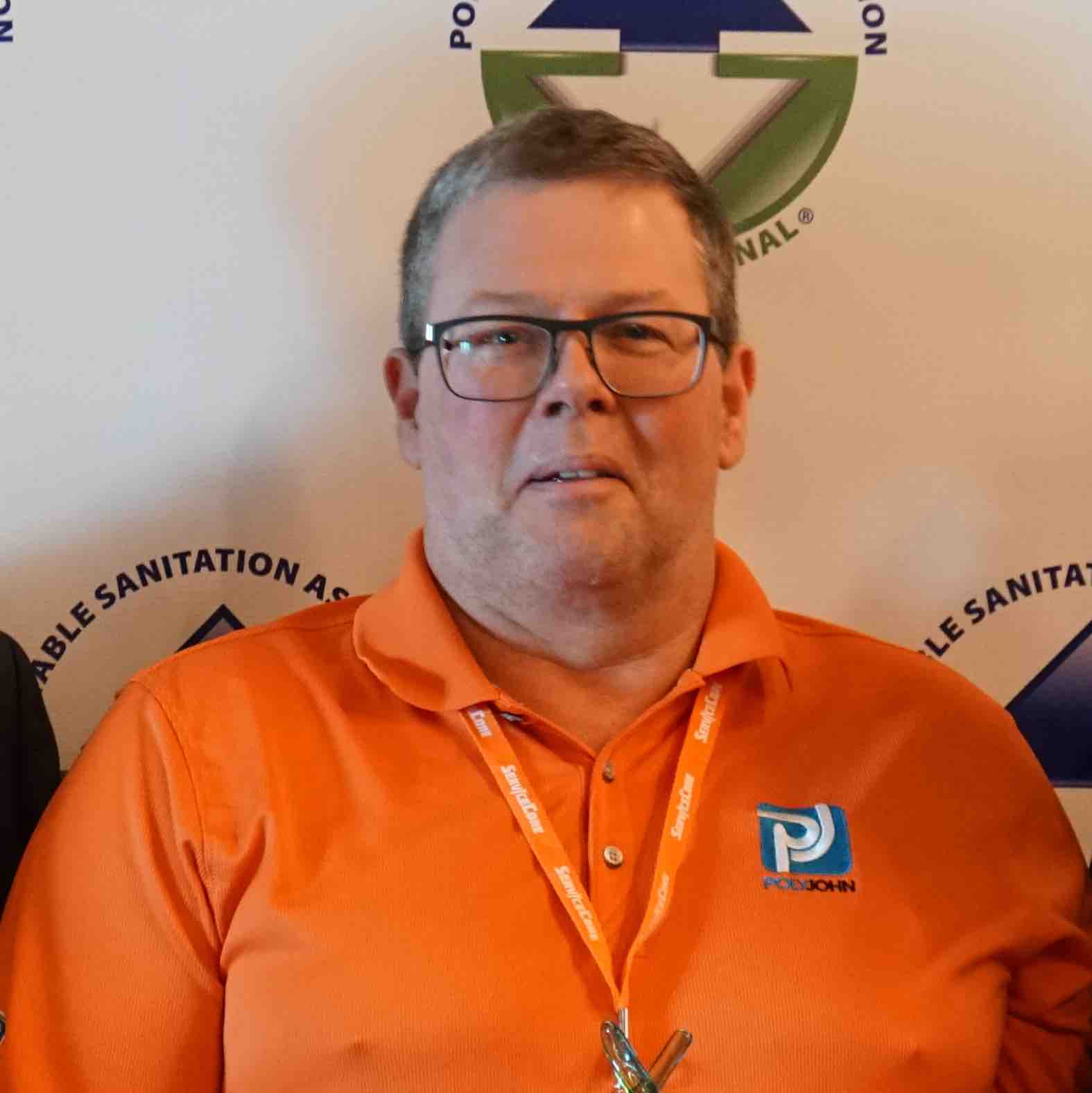 Jake Groen, General Manager of PolyJohn Canada, has been named the PSAI's 2019 Flay and Glenda Anthony Volunteer of the Year Award Winner.
As a leader in a supplier company for nearly thirty years, Jake is in a unique position to see our industry from the perspectives of companies of all sizes. He has brought that insight to nearly every volunteer role he has held over his many years of work on behalf of the PSAI.
Most recently, Groen has served on the PSAI Board of Directors for more than seven years — as long as it is possible to serve under the organization's bylaws – and he's been in many other leadership roles.
Here are just a few of the things he has done:
Served – and continues to serve – on numerous committees and subcommittees
Served as the Senior Non-Operator on the Board's Executive Committee for four years
Co-Chaired the International Advisory Council for five years
Can always be counted on to make dozens of phone calls to help generate interest in PSAI events
Says "yes" to almost any need the PSAI has. Whether we need someone to proofread a long and tedious document, someone to show up early or stay late at an event, or help resolving a misunderstanding between two event attendees, he's there to help sort things out.
In 2018 Jake became a PSAI trainer, assisting the PSAI by delivering training sessions in Ontario at the annual OASIS conference and, in a few weeks, he will be delivering training again at Wastewater Nova Scotia.
A lot of people suggested Jake Groen for this award. They said:
Jake has always done whatever is asked plus some. He is always the most prepared member of any meeting. He is always participating in events. He's a great ambassador for the PSAI. He's welcoming and inclusive to everyone.

I have known Jake for many years. He has always impressed me with his willingness to step up and volunteer for any task that the PSAI needed done. He never once said he didn't have time – even though he probably didn't have enough time. Any and all material that was given to the Board to review was read in its entirety by Jake. And believe me, it's been a lot of material. Jake really took the time and energy to delve into all facets of the PSAI and understand them. He has been an extremely valuable team members for the Board and especially for me. I can think of no one more deserving than Jake.

I believe that Jake Groen is the most deserving of the Volunteer of the Year Award. During my tenure on the Board, he always impressed me with his dedication to the PSAI and making a difference. It was refreshing to see the absolute commitment by him in regard to traveling to meetings, reading the required books and reports in their entirety before the meetings, and making the conference calls from wherever his day job took him. Jake was always volunteering for committees and would go above and beyond to make an impact. Being a Canadian, I will cut him a little slack, but it did enable him to join the International Advisory Council and share his valuable input. Because of this he even gained the nickname "Thor."
Jake's positive attitude, his dry sense of humor, and his work ethic make Jake "Thor" Groen an outstanding person to receive this prestigious award.
Over the years Jake has been involved with the PSAI we've had some great times and some dark days. During the darkest, Jake was there, working tirelessly on the then-new Education Initiative. He's also helped design the HOLLway sessions that debuted at the 2019 Convention.
Someone once said, "If your ship doesn't come in, swim out to it." Jake not only swam, he pulled others with him and helped raise all the boats. For this attitude, and his many wonderful contributions, we cannot thank him enough.