Back to Operator Directory

Organization Overview
Tidy Services is a family-owned company that specializes in solid and liquid waste disposal and recycling. We offer Roll-Off Containers, Portable Restrooms, Portable Sinks, and Executive Restroom Trailers for your special event or construction site.

Tidy Services is committed to proving the highest level of customer service. You want your event to be successful and memorable--make certain it is remembered for the right reasons!

Tidy Services can help you plan and host a flawless event, from a concert with 35,000 screaming fans to a small family gathering. Tidy Services is the one source for restroom trailers, portable restrooms, hand wash facilities, showers, wheelchair accessible restrooms, holding tanks, and even event trash collection & recycling services.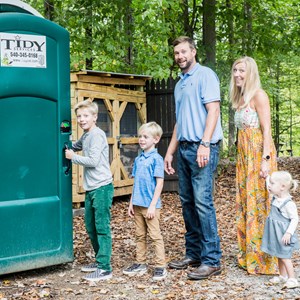 Barry Cobb
Branch Manager
Darian Monard
Service Manager
Erik Evans
Operations Supervisor
Gerald Henderson Jr.
Special Events Coordinator
Patrick Casstevens
Operations Supervisor
Scott Paine
Branch Manager
Steve Ritter
General Manager