The PSAI Scholarship Fund: New Recipients and New Ways to Give
The PSAI Scholarship Fund: New Recipients and New Ways to Give
PSAI is proud to announce the 2023 recipients of the Association's annual scholarship awards:
Amy Borsuk, WEB OutBack
Chloe Drake, Luxury Restroom Trailers
Layne Campbell, KPD Porta Johns
Patrick Sullivan, United Site Services
Quiana Quam, On Site Sanitation
Ryan Root – Luxury Restroom Trailers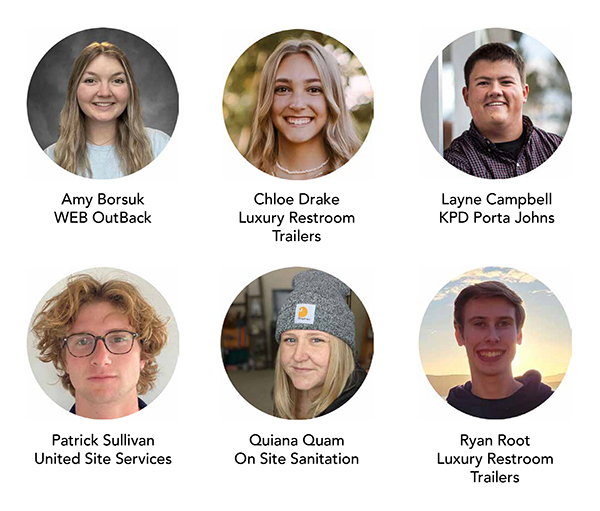 These students demonstrated excellence in academic achievement and extracurricular activities. They also submitted essays elaborating on the importance of public perception of the portable sanitation industry. It is always a joy to see how the industry has influenced the next generation and how they are becoming advocates of the essential services portable sanitation provides.
About the Program
The PSAI Scholarship Program was established 26 years ago. Since then, PSAI has awarded $432,500 to 130 students. Education continues to be a core value of the Association, and while most people think of our industry-specific training and certification, the PSAI Scholarship Program is just one more way we encourage further education for our PRO community. Learn more about the PSAI Scholarship Program here.
A Gift to Support the Past & Future
Historically, the PSAI Scholarship Fund has stayed strong through the generous donations of companies and individuals. But today, PSAI is excited to announce a new and simple way you can contribute to the Fund. When you purchase a copy of PSAI Through the Decades: A History of Portable Sanitation, 100% of net proceeds go directly to the PSAI Scholarship Fund. In this way, you are helping to honor the history and the future of this incredible industry. PSAI Through the Decades makes a wonderful gift for a PRO in your life, or for your own book collection. Learn more and purchase your copy here!
Any employee or their immediate family may apply for a PSAI Scholarship, which is good for vocational or undergraduate education institutions in the United States and many internationally for full- or part-time students. Applications will open again this fall.
Excerpts from Recipient Essays
"To elevate the image of portable sanitation as a respected and necessary service, it's imperative that we speak highly of our work and most importantly, strive to have clean, odor free, well maintained equipment." Chloe Drake
"I've started to lose count of the amount of times I've heard the excited yell of a construction worker at my arrival, as they are so happy to actually have somewhere to use the restroom on a new worksite." Layne Campbell
"I feel that we need to have sustainability measures in place to protect natural resources so that future generations will also have access to them. Once a natural resource is gone there is no way to get it back." Quiana Quam