Portable Sanitation and the ADA
ADA Requirements for Portable Sanitation
This year marks the 30th anniversary of the Americans with Disabilities Act (ADA). Since its enactment in 1990, this landmark legislation has brought sweeping modifications to industries as varied as portable sanitation, transportation, construction, event management, and education. Together, the changes effectively freed people with special needs to become fully engaged members of our communities.[1]
Since the ADA and its application to portable sanitation is one of the most asked-about topics at the PSAI, this is a timely opportunity to review its requirements for our industry.
The big picture
The ADA was designed to address barriers to employment, transportation, public accommodations, public services, and telecommunications. The Act gives civil rights protections to individuals with disabilities, similar to those provided to individuals on the basis of race, color, gender, national origin, age, and religion. It guarantees equal opportunity for individuals with disabilities in public accommodations, employment, transportation, state and local government services, and telecommunications.
The portable sanitation industry must be conscious of the requirements of the ADA with respect to:
The circumstances under which handicap accessible units must be provided
How many ADA-compliant units are required
The path of travel to an ADA-compliant unit
Who must comply with the ADA?
The ADA has three sections or "titles," and each lists the persons or entities covered under that section. Broadly, the following groups are subject to the ADA:
Employers with 15 or more employees
State and local governments, both in their roles as employers and as providers of public programs and services
Employment agencies
Labor unions
Private entities that are considered places of public accommodation
What this means for portable sanitation is this:
If your team has 15 people or more, every aspect of your operation must comply with the ADA rules for employers, and
Any business you do with the customer types listed here must also comply with the requirements of the ADA.
When must persons with disabilities be accommodated?
Persons with disabilities must be accommodated in all aspects of public life except when doing so would impose an "undue hardship" on the covered entity or present a hazard to others. Thus there are numerous exceptions in hazardous employment situations, but not many when it comes to public life. In general, public spaces and events must be accessible to be in compliance with the ADA.
A private citizen or business that owns, operates, leases, or leases to, a place of public accommodation is also subject to the ADA. Places of public accommodation include a wide range of entities such as restaurants, hotels, theaters, doctors' offices, pharmacies, retail stores, museums, libraries, parks, private schools, and day care centers. In short, if the public can go there, the ADA applies and persons with disabilities must be accommodated.
In what circumstances are there exceptions?
There are very few exceptions to the ADA, and the simplest way to think about them is this: if it isn't open to the public, the ADA may not apply. For example:
Private membership clubs and religious organizations are exempt from the ADA's requirements for public accommodations.
Portable toilet units at construction sites used exclusively by construction personnel are exempt from the requirement. However, if the public will also use the units, the ADA applies.
When the ADA applies, how many ADA-compliant units are required and how must they be placed?
For single-user portable toilets or bathing units clustered at a single location:
At least five percent of the units must be accessible (a ratio of 1:20) BUT
No less than one toilet or bathing unit complying with ADA requirements shall be installed in each cluster where typical units are provided AND
The "path of travel" to the restroom unit must also be ADA compliant
Here are some examples of how the ADA requirements for portable restrooms apply in the real world.
Scenario A: A small event open to the public that requires only one unit: the one unit must be ADA-compliant.
Scenario B: A public event with 20 units all clustered together: one unit must be ADA-compliant.
Scenario C: A public event with 20 units in 4 clusters of 5 units each: one unit in each cluster (4 total) must be ADA-compliant.
Scenario D: A private wedding held at the bride's family farm: ADA does not apply.
Scenario E: A private wedding held at a public park or commercial farm venue: ADA portable restroom requirements apply.
Scenario F: A construction site on a highway open only to construction workers: ADA portable restroom requirements do not apply.
Scenario G: A construction site at a big box store where customers will use the portable restrooms: ADA requirements apply.
Know Your Equipment
The portable sanitation industry has many suppliers and equipment choices. It is important for you to ask your portable restroom operator about the equipment and to be aware of whether the equipment you rent and place in the field is ADA-compliant.
Several manufacturers make larger units that are not ADA-compliant. According to company sources, these units exist because operators have asked for them, and they can make great family-friendly or companion units. However, these larger units—which may even be described as "wheelchair accessible"—are not ADA-compliant and should not be used to meet the minimum requirements of the ADA. Operators should take care to ensure the equipment they are placing does, in fact, meet the space requirements to be ADA-compliant.
How to Ensure Your Portable Toilets, Trailer Stalls, and Sinks are ADA-Compliant
Manufacturers will typically make a distinction between their larger units and those that are fully ADA-compliant. If you are purchasing new equipment, look for labeling that states the equipment is ADA-compliant, and ask your sales representative enough questions to be sure you know what you are getting. If you already rent or own equipment and are not sure if it complies, here are the requirements.
Single-User Portable Units and Trailer Stalls
The ADA has guidelines in place for handicap portable toilets. A compliant portable restroom must contain a seat that is between 16 and 18 inches from the side wall. Portable restrooms and trailer stalls must also have a clear 60-inch diameter turning space that is located 56 inches away from the rear wall so that the handicap guest is free to move without any obstructions. The toilet seat height must be 17 to 19 inches from floor to rim, including the seat.
Doors
Doorways should be equipped with handles that can be gripped with one hand and opened without any strain. The door should also open at 90 degrees and be at least 32 inches wide.
Grab Bars
Installing grab bars within the stalls is necessary to prevent any fall risks and help the user maintain their balance. Bars of at least a 42-inch minimum length are needed on each side of the unit or stall. They must be located no more than 12 inches from the rear wall and extend no less than 54 inches from the rear wall. The height must be 33 to 36 inches above the floor. These must be well anchored to support a 250 lb. load in all directions.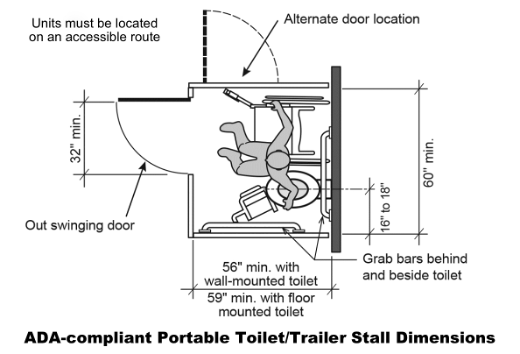 Sinks
Sinks shouldn't be mounted any higher than 34 inches from the floor. The space beneath the sinks should be clear for wheelchair accessibility. Faucets must be operated by levers, push buttons, or electronic sensors. Users should not have to exert more than 5 pounds of force to use the faucet.
The path of travel must also be ADA-compliant
It is not enough to simply provide the right equipment on a site. It only helps people with disabilities if they can actually use it. Because of this, the ADA requires that the "path of travel," in other words, the way a user would reach the unit, to be accessible also.
According to the ADA, a path of travel includes a continuous, unobstructed way of pedestrian passage by which the accessible unit may be approached, entered, and exited. When bidding jobs that will include ADA-compliant units, portable restroom operators should discuss the customer's expectations for how the compliant path of travel will be achieved. If the customer expects your company will provide ramps or other means of access, this needs to be considered in the bidding process.
The ADA National Network publishes a Planning Guide for Making Temporary Events Accessible to People with Disabilities. Within this guidance and elsewhere on its website, the group offers this guidance for providers of portable restrooms:
"Some portable restrooms make use of a ramp that slopes directly up to the entrance door, making it difficult or impossible for people in wheelchairs to climb the ramp and pull the stall door open at the same time. While these units are helpful to some people, they still are not accessible to many others.
Accessible portable toilet units must be positioned on a level area that connects with an accessible route and have adequate space just outside the entrance door for people in wheelchairs to maneuver into position to open the door and enter. On steeply sloping sites, a temporary platform may be needed to provide this level area.
The door threshold must be accessible. Outdoor surfaces are often uneven and may require a small bevel to level out the transition between the ground surface and door threshold. Units can be placed on or adjacent to parking lots or other paved surfaces."
What else do I need to know to comply with the ADA?
If you have everything above all figured out, you are well on your way to being a portable sanitation ADA expert. Here are just a few more things you need to know to fully wear that title.
The International Symbol of Accessibility must be posted on the ADA-compliant units. Do not put that symbol on "wheelchair accessible" units that don't meet the space requirements shown in the graphic on page x.
Providing a typical ADA-compliant portable unit for persons with disabilities to use when a substantially better alternative, such as a climate-controlled portable restroom trailer with flushing toilets, is provided for able-bodied users is not strictly consistent with the requirements of the ADA.
The spirit of the ADA is to ensure that people with disabilities have "equal access." Operators and customers should be aware of this and adjust their equipment accordingly. This can be an opportunity to educate your customer and possibly to upsell. Based on the real experiences of some operators, it can also help you and your customer avoid unpleasant encounters with disability advocates and the media.
Where can I get more answers?
For answers to additional ADA questions, call the ADA National Network at 800-949-4232 (V/TTY). The ADA National Network is the "go to" resource for free information. It is tailored to meet the needs of business, government, and individuals at local, regional, and national levels.
The ADA National Network consists of 10 regional centers located throughout the United States. To identify the regional center that serves your state, visit the ADA National Network website at https://adata.org/find-your-region.
Members conducting business outside the United States are advised to check with local government officials concerning accessibility requirements in those countries.
[1] This article covers the requirements of the ADA specifically. Most nations have laws that are similar to the ADA, and those that are members of the United Nations have typically signed the UN Convention on the Rights of Persons with Disabilities (CRPD). For a list of national laws related to meeting the needs of the disabled, please see this list published by the Disability Rights Education and Defense Fund.