The Andy Gump Award
The M.Z. "Andy" Gump Award is the portable sanitation industry's most prestigious honor.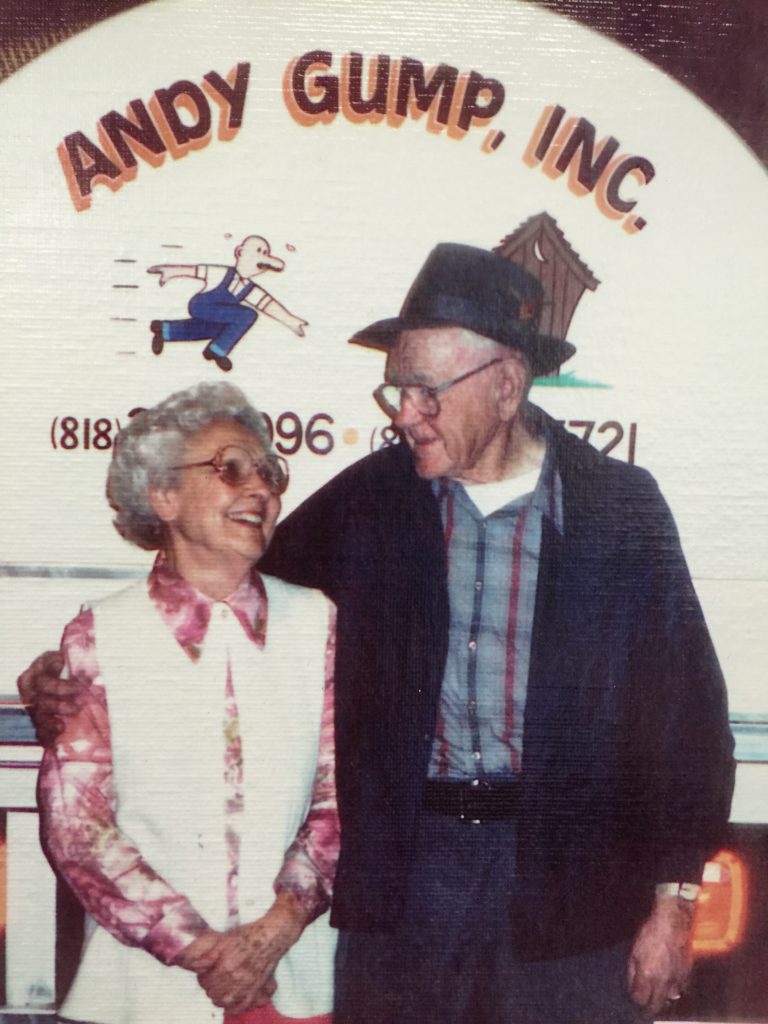 M.Z. "Andy" Gump was an industry leader of high ethical standards and a reputation for excellence in all that he did. In 1956 Andy and his wife began their portable restroom venture building wood units in the family garage in Santa Clarita, California.
The award bearing Andy Gump's name was developed in 1993 by his son Barry Gump, a second generation industry veteran and leader in his own right. Today the Andy Gump Award is the portable sanitation industry's highest honor.
Each year the PSAI Awards Committee reviews nominations from around the world to identify the most appropriate honoree. One portable sanitation professional receives the award annually at the PSAI Convention and Trade Show.
Nomination and selection is based on a person meeting the following criteria:
Conducts business and personal relationships with fairness and integrity
Works to improve the image of the industry
Introduces innovative approaches to addressing portable sanitation needs
Creates new products, services and related technology
Leads colleagues in the advancement of the portable sanitation industry
Exhibits vision in responding to economic challenges facing the industry
| | |
| --- | --- |
| Andy Gump Award | Barry Gump |
Do you know someone who would make a great recipient? Nominate an influential leader in our industry by Friday, November 17, 2023.
Download the Nomination Packet
OR
The Andy Gump Award statue depicts a cowboy shaking hands with a banker.
"It portrays the way my dad did business," explained his son Barry Gump. "A hand shake was his word and bond, and he didn't need a contract or piece of paper to seal the deal."

Andy Gump Award Recipients:
| | |
| --- | --- |
| 2023 | Bill Williams, Walex, Wilmington, North Carolina |
| 2022 | Karen Holm, On Site Sanitation, Inc.; Little Canada, Minnesota |
| 2020/21 | Award ceremonies postponed due to COVID-19 pandemic |
| 2019 | Ron Inman, Northwest Cascade Honey Bucket; Puyallup, Washington |
| 2018 | Barry Gump, Andy Gump Company; Santa Clarita, California (posthumous recognition) |
| 2017 | Todd Hilde, Satellite Industries; Plymouth, Minnesota |
| 2016 | Lou Paulsen, Can-Doo Budjet Rentals; Abilene, Texas |
| 2015 | Mitchell Weiner, Mr. John/Russell Reid; Keasby, New Jersey |
| 2014 | Allan Baird, Baird Septic Tank Pumping Ltd and Go Johns; Upper Onslow, Nova Scotia |
| 2013 | Jeff Wigley, Pit Stop; Atlanta, Georgia |
| 2012 | Gregg DeLong,PolyJohn Enterprises; Azusa, California |
| 2011 | Michael McCarthy, Mr John of Pittsburgh; Pittsburgh, Pennsylvania |
| 2010 | Lee Sola, S & B Porta-Bowl Restrooms, Inc.; Aurora, Colorado |
| 2009 | Flay Anthony Jr., Porta-Jon of the Piedmont; Gastonia, North Carolina |
| 2008 | Steve McDonald, Sanitation Journal; Lemoore, California |
| 2007 | Ed Cooper, PolyJohn Enterprises Corp.; Whiting, Indiana |
| 2006 | Mike Holm, United Site Services, Inc.; Miami, Florida |
| 2005 | Ron and Gladys Bird, Ameri-Can Engineering; Argos, Indiana |
| 2004 | Ned Carpenter, Porta-Jon of the Piedmont; Gastonia, North Carolina |
| 2003 | Mike Pauling, Biffs, Inc.; Shakopee, Minnesota |
| 2002 | Dick and Mary Macialek, Center Penn Services; Bellefonte, Pennsylvania |
| 2001 | Peter Booth, Loo Hire UK; Sheffield, England |
| 2000 | Lothar Vermillion, ADCO International GmbH; Ratingen, Germany |
| 1999 | Frank Ranson, The Phil Carter System, Inc.; Newport News, Virginia |
| 1998 | John Taylor, Satellite Industries, Inc.; Plymouth, Minnesota |
| 1997 | Mark Perry, Northwest Cascade, Inc.; Puyallup, Washington |
| 1996 | Ed Crafton, PolyPortables, LLC; Dahlonega, Georgia |
| 1995 | Fred Cutler Sr., Sani-Hut Company, Inc.; Reno, Nevada |
| 1994 | George Harding, PolyJohn Enterprises Corp.; Whiting, Indiana |
| 1993 | Clyde Sansom, Synergy World; St. Louis, Missouri |